---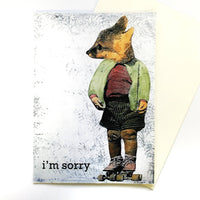 If you have to say I'm Sorry, this is the cutest apology card you can get. It features an illustration of a sweet baby fox wearing rollerskates.
Single card with cream envelope. Measures 5" x 7" folded, blank inside for your own message. Printed on FSC certified paper, envelope 100% recycled, "plastic" sleeve is compostable. There will be no watermark/logo on your card!

Original image by Gianna Pergamo, collage and acrylic paint.
If you tag me on instagram @pergamopapergoods, I'll be happy to re-post it.