---
Animal Tote Bags
These tote bags feature bright, colorful screen prints of Gianna Pergamo's original animal illustrations. You can feel good about using this bag because it is eco-friendly, made from 100% organic cotton. Sturdy and spacious, take this bag anywhere! We have five designs- excited alligator, dapper flamingo, mermaid cat, donut pug, and a Keep St Pete Local pelican bag.
Places to use your New Tote Bag
The beach! This tote can hold your beach essentials and is easy to wash afterwards. The mermaid cat design would be especially at home at the beach.
The grocery store! Skip the plastic, this makes a great grocery bag.
At school! Use this tote to hold books, pens, and essentials.
Just... anywhere! Use this as your everyday bag, they're cute enough :)
Tote bags are useful and practical, and your will love these eco-friendly bags if you are an earth-conscious animal lover!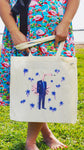 Regular price

$15.00
—
Sold Out