---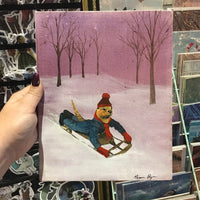 This is an original mixed media collage, featuring an otter sledding down a hill. It was created using collage and acrylic paint, and the collage portion incorporates vintage imagery. The canvas is 8x10," half an inch deep. This could hang on your wall as-is, unless you prefer to frame it.
Follow me on instagram @pergamopapergoods! If you tag a pic of my work in your home, I would be so happy to re-post it. Also find me on facebook www.facebook.com/pergamopapergoods
DISCOUNTS:
If you are buying more than one painting, use these discount codes!
Two paintings, 10% off: TWOPAINTINGS
Three or more paintings, 20% off: THREEPAINTINGS
SHIPPING INFO:
Your painting will be wrapped and shipped in a USPS priority mail bubble mailer.
www.pergamopapergoods.com
Original canvas oil/media
Quick and thoughtful packaging. Her personal accents made it a memorable gift to give and was recieved with all the praise and enjoyment it deserves. E&P