---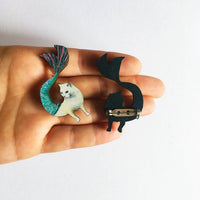 These unique mermaid cat lapel pins are made of laser cut wood with an iron (nickle free) bar pin securely attached to the back. Each cat is 2" tall. The cat illustrations are high quality reproductions of Gianna Pergamo's collage art.
This pin is best used on an outfit, not a backpack, as it is delicate.

The pins are completely handmade in the USA.

Follow me on instagram @pergamopapergoods for updates, in progress work, and more!
Great artistic pins
I bought 2 cat-mermaid pins as gifts. They loved it. Great item.