---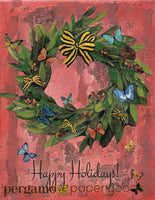 Say "Happy Holidays" with this beautiful collage! This holiday card has a unique illustration that is perfect for a festive holiday season!

This image is a reproduction of a collage and acrylic painting on canvas by Gianna Pergamo. If you want to inquire about buying the original, send Gianna a message.

Single card or set of six (of the same) cards. If you buy the set, it will come sealed in a sleeve with a cute label on the outside. Holiday cards are 4 3/8" x 5 3/4" folded. Printed on FSC certified paper, envelope 100% recycled, "plastic" sleeve is compostable. There will be no watermark/logo on your card!

Follow me on instagram @pergamopapergoods! If you tag a pic of my work in your home, I would be so happy to re-post it.
This review has no content.
This review has no content.